Leaf411 and SWEET JANE are teaming up to bring answers to your cannabis health questions
Question: I've been hearing a lot about something called "live resin," but I don't really know what it is or how to use it. Can live resin be used for medicinal purposes like other cannabis products?
Answer: Cannabis connoisseurs have long appreciated the cannabis concentrate known as live resin because it possesses a robust terpene profile, along with other cannabinoids, that many people believe provides a "whole plant" experience. In addition, many consumers feel that live resin captures the true flavor profile of its originating plant – and it is very potent. Over the past several years, as cannabis legalization has expanded, more consumers have become aware of live resin, and its popularity has skyrocketed. 
However, live resin is a very specialized product that requires a level of sophistication and knowledge beyond the casual consumer's experience. It also may produce effects beyond the casual consumer's expectations. Patients unfamiliar with live resin should become thoroughly educated with how it is made and utilized before incorporating it into a treatment regimen. The following provides a good overview of the product and potential benefits to be gained from its use, as well as any drawbacks to keep in mind.
What is live resin?
Live resin is a cannabis concentrate extracted from freshly harvested cannabis plant material that has been flash-frozen (or fresh frozen) and run through a solvent extraction process. The plants are kept frozen throughout the entire extraction process, avoiding the drying, curing, and trimming phases which degrade the valuable terpenes of the plant. The result is a yellowish wax-like substance packed with intense flavors, aromas, and potency.
ADVERTISEMENT

Consuming live resin can be as easy as "topping off" a bowl or joint to add additional flavor and potency or as complex as dabbing, which requires specialized equipment called a dab rig, as well as a bit of finesse. Another option is to use a dab pen that provides a more portable way to consume live resin. Dab pens allow consumers to experience the flavor and potency of live resin without all of the equipment needed when using a dab rig. 
Potential benefits and possible pitfalls of live resin
By preserving the terpenes, live resin retains the characteristics of the original plant. Enthusiasts of the product will tell you one of its greatest benefits is the rich flavor and aroma present in the concentrate, which provides a truly "whole plant" experience. Patients with a need for high potency cannabis may find that the strength of live resin provides a fast-acting way to relieve symptoms. 
However, the potency of live resin can be a barrier for those with little experience consuming cannabis and/or a low tolerance of THC. Quite simply, it may just be too strong for some patients. In addition, this potency makes it easy to over consume live resin even for experienced cannabis consumers. Finally, although costs are coming down, live resin can be prohibitively expensive for many patients. Leaf411 wrote about the costs associated with live resin in a blog post in 2021. 
Patients that can get beyond those pitfalls and who are experienced enough with cannabis to manage the high potency of live resin may find it to be an effective way to help relieve pain, nausea, inflammation, and other symptoms. For example, a patient managing severe cancer or neuropathic pain who already has a high tolerance for THC might be an ideal candidate to try live resin. But the benefits need to far outweigh the cost, inconvenience, and potential risk of overconsumption. 
In general, Leaf411 nurses have typically not advised patients to use live resin for the reasons listed above. But that doesn't mean it might not be appropriate for some patients in specific cases. As always, we advise people to consult with a clinician or contact Leaf411 if you have questions about live resin as it relates to your specific symptoms.
Live resin is a very specialized product that requires a level of sophistication and knowledge beyond the casual consumer's experience.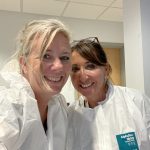 Leaf411 is the first cannabis nurse hotline and guidance service. A 501(c)(3) nonprofit organization, Leaf411 was founded in 2019 with a mission to provide education and directional support to the general public about the safe and effective use of cannabis (marijuana and CBD hemp). With a combined total of over 45 years experience in nursing and 14 years in cannabis nursing, Leaf411's leadership team has assembled the knowledge and data to move the mission of tackling healthcare inequality forward. Together both Katherine Golden, RN/CEO/Executive Director and Founder of Leaf411 and Eloise Theisen, AGPCNP-BC, and Chief Nursing Officer of Leaf411, successfully guides the team of cannabis nurses who passionate about helping the community access balanced education about their cannabis use while also improving public perception of the cannabis industry. For more information visit leaf411.org or join the conversation on Facebook and Twitter.