Leaf411 and SWEET JANE are teaming up to bring answers to your cannabis health questions
Question: I'm concerned that someone I know may be overconsuming cannabis but I'm not sure if I'm overreacting or what I can do to help. Is overusing cannabis a serious problem?
Answer: There are absolutely times when cannabis consumption can become problematic. Heavy consumption can lead to a variety of physical and psychological health issues and has actually been identified by researchers and healthcare professionals as Cannabis Use Disorder (CUD). CUD was first introduced in May 2013 as part of the Diagnostic and Statistical Manual of Mental Disorders, Fifth Edition or DSM 5. (The previous DSM edition separated problematic use into two different disorders: cannabis abuse and cannabis dependence.) It is estimated that CUD impacts approximately 10% of the 193 million cannabis users in the world.
The signs of Cannabis Use Disorder are similar to the symptoms of other substance abuse disorders, including:
Craving cannabis, along with difficulty controlling or reducing consumption

Reducing other activities in order to consume cannabis

An increasing tolerance to cannabis requiring consuming more than intended

Consuming cannabis in high-risk situations (such as during work)

Increasing problems at work, school, and home, resulting in relationship and social problems

Withdrawal symptoms, including headache, diarrhea, insomnia, mood swings, irritability, and an increase in aggressive behavior

Anxiety and depression
If left unacknowledged and untreated, CUD can have serious long-term effects. Anxiety and depression often accompany CUD, and loss of relationships and employment can also be experienced. Over the long term, CUD may lead to financial challenges and loss of housing. Those with children can face loss of custody if their CUD is impacting their ability to care for themselves or their family. 
ADVERTISEMENT

Once recognized, patients with CUD typically work to decrease their cannabis consumption, which can lead to potentially severe withdrawal symptoms. The most commonly experienced withdrawal symptoms can include headache, diarrhea, insomnia, mood swings, irritability, and an increase in aggressive behavior. When patients with CUD withdrawal symptoms contact Leaf411, our trained cannabis nurses offer a variety of options to help treat the withdrawal to allow the patient to continue reducing their consumption.   
First off, we recommend that patients slowly reduce their cannabis consumption to help minimize withdrawal symptoms and reduce unpleasant side effects. Although it may seem counterintuitive, there is evidence that supports the use of cannabinoids to help reduce the effects of withdrawal. Cannabidiol (CBD) as a treatment for withdrawal symptoms of Cannabis Use Disorder has been shown to be effective, yet additional study is needed to determine precise dosing. Patients can also consider cognitive behavioral therapy and motivational enhancement therapy. In a clinical trial, the combination of therapy and Nabiximol, an herbal preparation containing a defined quantity of specific cannabinoids, was found to help with withdrawal symptoms of reduced cannabis use. Moreover, additional studies have found other potential treatments, including the use of antipsychotic medicines and gabapentin, an anticonvulsant and nerve pain medication.
However, prior to any treatment or efforts to reduce consumption, patients must first understand if they are consuming too much cannabis, or are on the verge of consuming too much cannabis. To understand the warning signs and risks, patients should consult with a cannabis clinician or contact Leaf411. A trained healthcare professional can help identify the red flags that might lead to potential abuse, such as a history of addiction and continuing to consume cannabis to excess daily, despite the lack of any medical need. Once it is determined that consumption has become a problem, an approach to tackle the problem can be developed.
If left unacknowledged and untreated, CUD can have serious long-term effects. Anxiety and depression often accompany CUD.
Photography by Elsa Olofsson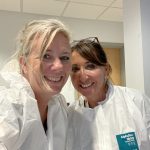 Leaf411 is the first cannabis nurse hotline and guidance service. A 501(c)(3) nonprofit organization, Leaf411 was founded in 2019 with a mission to provide education and directional support to the general public about the safe and effective use of cannabis (marijuana and CBD hemp). With a combined total of over 45 years experience in nursing and 14 years in cannabis nursing, Leaf411's leadership team has assembled the knowledge and data to move the mission of tackling healthcare inequality forward. Together both Katherine Golden, RN/CEO/Executive Director and Founder of Leaf411 and Eloise Theisen, AGPCNP-BC, and Chief Nursing Officer of Leaf411, successfully guides the team of cannabis nurses who passionate about helping the community access balanced education about their cannabis use while also improving public perception of the cannabis industry. For more information visit leaf411.org or join the conversation on Facebook and Twitter.