Combining down dog and bud for optimal relaxation and healing
Cannabis and yoga have been a favorite pairing among enthusiasts of both for some time. But with more states legalizing cannabis to some degree, and federal legalization of hemp and some cannabidiol products in the U.S., more opportunities to enjoy the pairing are popping up, in person and online. 
This yoga practice combines wellness, mindfulness, and fitness, and has the potential to lift the stigma and normalize the cannabis conversation.
Many people will recognize that yoga and plant medicines pair well for a variety of reasons. But why cannabis? 
ADVERTISEMENT

Lauren Mahaney is the founder of M.Y. Chronic Releaf, a Colorado-based mobile yoga and massage service  for clients with chronic pain and high stress, and special needs kids for whom plant medicine aids. According to Mahaney, cannabis and yoga both affect us at a cellular level. 
"Cannabis has been found to interact very well with our endocannabinoid system, which we also know actually deals with many of our body systems including the brain, the nervous system, immunity, and hormone distribution," she says. "Science has also explored yoga at the cellular level and found it can even reverse the process of aging in our cells. Yoga can rebuild parts of cells to improve many aspects of our living, including neuron connections, the nervous system, immunity, stress responses, mobility, bones, and so much more."
"The positive energy at our CBD yoga events is contagious. The day after, we receive phone calls and messages from people saying how happy and relaxed they feel."

-Estefania Valencia, co-founder of Sanna Ohana 
Sanna Ohana yoga co-founder Salam Diri agrees. "In its smoked form, [cannabis] also behaves as a bronchodilator, opening the lungs and improving oxygen exchange in the body. Cannabis also improves focus and induces a state of presentness, euphoria, and connection."
Two years ago Diri and Estefania Valencia launched Sanna Ohana yoga, which offers cannabidiol-infused yoga practice in New York City. 
"The positive energy at our CBD yoga events is contagious," Valencia says. "Students leave happy and with a new appreciation for the cannabis plant. The day after, we receive phone calls and messages from people saying how happy and relaxed they feel."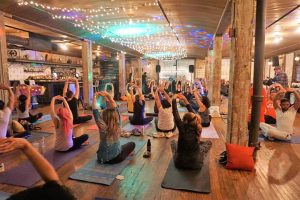 Diri recognizes that the medicinal properties of cannabis — reduced anxiety and pain, relaxation, self-awareness, and introspection — can enhance a yoga practice. Additionally, the mind-body connection that cannabis yoga provides may be more attractive to women, whether or not they are cannabis consumers. 
ADVERTISEMENT

Dee Dussault, a trailblazer for cannabis yoga, was the first teacher to publicly offer cannabis-enhanced yoga back in 2009. In the past decade she has led Ganja Yoga classes for thousands of students of all ages, abilities, and experience levels. She even launched a Ganja Yoga teacher training and certification program.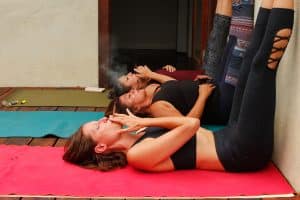 "Women are one of the fastest-growing markets of cannabis users, and they tend to make the health care decisions for the family," she says. "Educating women on the healing potential of cannabis and the importance of our endocannabinoid system is an important part of normalizing the use this plant.
Like Dussault, Mahaney promotes the value of cannabis to women who practice yoga. By pairing cannabis with fitness and wellness in this way, Mahaney and her colleagues help people see the plant in a different light. 
"I share my home practice with cannabis yoga so women can see how cannabis has helped me with my own conditions," she says. "I also share homeschool adventures and running my business behind the scenes so people can see a woman who is a mother and a business owner instead of the stereotype that has existed about cannabis users for so long. I know not every woman, mother, or grandmother can do this because they live in an illegal (cannabis) state, but I want to help normalize it for those women who still feel the need to hide."