Editor's note: Many mothers turn to other mothers when they are in need of support, assurance, feedback on parenting, and so forth. So when a fellow mother/personal trainer encouraged me to take back my health, I listened. (And I am still sore.) 
I've seen a personal growth within both of us and what has resonated the most is our desire to continually discuss a taboo topic (cannabis), together. Alas, I felt more mothers could benefit from these conversations and as a result have invited MAMAFitWhit into the SWEET JANE family as a regular opinion columnist. 
We hope you enjoy her musings and find connection among other mothers who muse the same.
ADVERTISEMENT

Who is MAMAFitWhit? An inconclusive definition.
I'm a former rural midwesterner who remains in the Midwest but in an unequivocally laid back city. Where I live is the perfect compilation of big city-meets-small-town … kind of like me. 
I am a mother of two young children trying my best to ebb and flow with life's challenges. Those challenges often emerge as a "working" mom. My children sleeping through the night is indeed my biggest blessing both from a personal trainer's perspective and a mom's, at least in this stage of my life. Not for a second do I wish away these years and this moment in time with young children. But I for one can attest to the true deprivation and loss of "self" that can occur once you become a mother. 
I am a wife to my best friend whose questions and demands of (our) time encourage me to continually pursue more. To enjoy the breaks but never settle. My intentions are to spend this life with complete confidence in one's personal abilities, opportunities, and achievements; those of others as well as my own. I greatly enjoy celebrating everyone. 
I own a gym and personal training business with my husband. Together we used to dream about this time in our lives. I don't know when it happens but there comes this realization, in pursuit of a dream of the actual time it takes, the twists and turns and constant curve balls thrown at you. We've overcome a mountain of student debt, taken numerous chances (including some failures), and yet continued to learn and keep pushing forward.  
It is interesting how dreams end up looking different than you imagined yet develop exactly as they were meant to.
Envisioned written in red crayon with squiggly letters that could someday become a permanent feature on my personal canvas. 
ADVERTISEMENT

MAMA is this beautiful entity one becomes when they share part of their soul with another being. It is what I call my own mother and who I am to my children.
I come from a family of strong-willed and strong-headed women. Women who have experienced heartbreak, abuse, divorce, cancer, mental health conditions, and more. Most of these experiences were witnessed second-hand. Yet I couldn't have known that life's inevitable accumulations would essentially saturate my younger self with confidence and self-worth. 
My firsthand experience with childbirth is a personal reminder of a MAMA's physical strength and endurance, a reminder of what we as women are capable of. 
Fitness is ever changing. It is no longer a bunch of dudes "banging weights." Today, it is women taking up space and not being pigeon-holed into looking or being a certain type of way. 
In fact, being "fit" doesn't look like anything. Fitness is a feeling. It is physical exertion, sweat, increased heart rate, and sore muscles. More importantly it is continually pushing past one's comfort zone. 
Fitness is sneaky. It shows up in delightfully unexpected ways. Defined correctly, "fit" is gaining strength both physically and mentally. And for me that's a date with the weights most days of the week. And I'm rewarded later while I'm hiking, biking or in more regularly occurring cases chasing a child.
I, me, she is also ever changing. I'm a listener, an observer, an explorer, and believer. A varied continuance of female and male energy. I am someone who appreciates and admires the female form. I was a girl who grew up as just "one of the guys," but now I take those previous experiences along with my current awareness to hone my own mindfulness. 
As a young girl I grew up afraid of most things as I imagine is the same for the majority of women. We can now abandon the idea that we should be afraid of anyone bigger than us, older than us, smarter than us, prettier than us, or [insert any variable to describe any person perceived as "better"]. I'm no longer afraid to show up as who I am, who I choose to be, and to who I'll one day become. 
And honestly, that takes much more work than words can do justice. 
I believe there are "listeners" and there are "talkers." Most people want to talk. And I feel that's because most of us just want to be heard (which is neither good nor bad, in the words of my MAMA "it is what it is"). In taking the time to listen to others, making them feel seen and heard is more of who I am and what I want from life.
The magnificence of the outdoors is what calls to me every day. 
Mother Earth has provided this incredible playground for us to enjoy. Yet, our modern society continues to distract us with the "hustle and bustle." What's new? What's happening now? The latest and greatest, as well as working from sunup to sun down–that is not the life I want to live nor share with my family. 
Stay present. Stay Patient. Stay Persistent.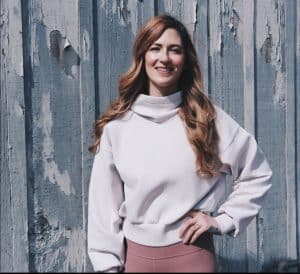 Born and raised in rural Kansas, @MamaFitWhit carries a sense of small town appeal on her sleeve. MamaFitWhit is a personal trainer (in person and online) and business owner. She has a passion for health, fitness, and motherhood. For over a year and a half she has been advocating for Autism Awareness and is devoted to educating herself and others about Autism Spectrum Disorder (ASD). Education about cannabis as medicine and how it can be utilized for overall wellness is a growing concentration of hers.