When we set out to interview Emily McCarter, we wanted to learn more about the fascinating life of a cannabis influencer. But one dab in, and we were quick to realize there was far more to the business, and McCarter, than we ever anticipated. 
McCarter, or rather @mccartergetshigh, invited us to her home in Boulder, Colorado, for a day-in-the-life experience. We were thrilled to sit down with the budding social media influencer, who we first discovered when she was promoting a new way to celebrate 420, which we immediately covered.
From afar, we watched McCarter personify a cannabis lifestyle on Instagram, with magazine-worthy photographs, beautiful artistic glass pipes, and dreamy clouds of smoke—all defining her aesthetic for an audience that uniquely aligns with her brand. 
ADVERTISEMENT

But this time, we had the opportunity to enter her world, where she develops content, collects bongs and pipes, and holds virtual business meetings in her sunny home office. The Blazy Susan tray on her coffee table was an open buffet to delicious concentrates and exciting consumption tools we had yet to discover. 
We sat in awe, stoned, listening to the story of how she came to be an influencer. 
For McCarter and other cannabis content creators, it's hard not to look at the influencer business—which has grown significantly in cannabis given the mountain of limitations around traditional marketing and advertising—and not see a huge opportunity. Since 2019, the global influencer marketing industry has more than doubled, making it worth around $13.8 billion as of 2021, according to Statista. Match that with a $61 billion U.S. cannabis market, and there's a lot to gain for influencers with an audience. 
McCarter figured out the niche early on.
 "I just want to create cool content, destigmatize plant medicine, and educate people. That's it." – Emily McCarter
Discovering Her Brand
McCarter first realized cannabis could play a massive role in her wellbeing when she was in college and began consuming the plant to curb her anxiety. She resisted the collegiate culture of drinking for drinking's sake, instead opting for plants. For her, cannabis has always been medicine.  
"I consume cannabis on the regular and use it to enhance my life for the better, to be more focused, more creative, happier, to sleep better, to have less anxiety, and less inflammation," she says. "For a person who has struggled with mental health since I was a teenager, I feel like that's like a really big thing—to just be content—cannabis really helps me to be content."
ADVERTISEMENT

After graduating from college, the St. Louis native cut her teeth in journalism, writing for 303 Magazine, then Westword, and eventually moving into social media and public relations with Grasslands, the well-known cannabis PR agency. Afterward, she tried launching her own agency but realized that it was not for her after a year. This dichotomy between marketing and journalism gave her a business savvy many other influencers didn't have, she says. 
"I learned so much being a journalist and then doing cannabis PR, then having my own agency for a year and then being like, 'I don't even want an agency. What am I doing?'" she says. "I just want to create cool content, destigmatize plant medicine, and educate people. That's it." 
McCarter had been casually posting on her Instagram during this time, but she took off once she started engaging in the industry. She attended events with fellow influencer, Koala Puffs, she planned some of her own, and she got other brands and influencers to tag her.
"I gained 10,000 followers in like a year," she says. "So, then I was like, holy fuck … something's happening?" 
Today, the 27-year-old has created a brand that is content-focused with a business acumen to back it up. Through her social channels and podcast, High Minded with McCarter, she educates her audience on components of cannabis as medicine. She talks about cannabinoids and terpenes and destigmatizes their use by sharing how, when, and why she consumes, and how it impacts her life. Recently, she's also expanded her content to include education on psilocybin, as she has been experimenting with micro-dosing for the last three years. 
"With my podcast, I like talking to people that have way more knowledge than I do. Then I'm learning from them directly, and I can share that knowledge with so many other people," she says. 
Her podcast covers various topics, from dissecting cannabis' history, discussing pot politics, and looking at the budding industry. It also touches on mental health through microdosing—all while promoting other-like minded cannabis professionals. High Minded with McCarter is yet another example of McCarter's approach to building a business. It's an opportunity for her to further immerse herself into the industry and create opportunities, both paid and organic, for professionals or brands to market themselves.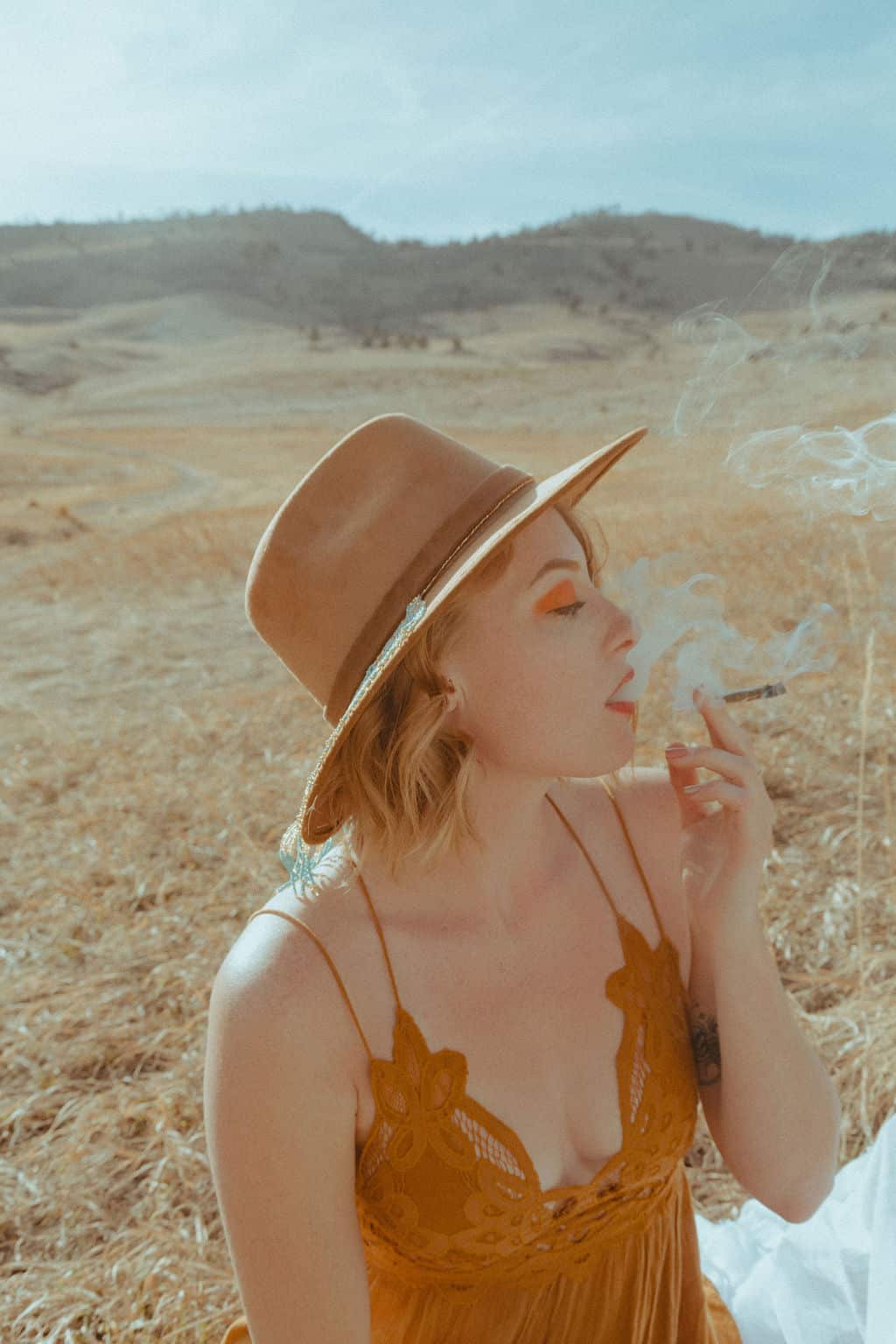 Monetizing McCarter
Once her audience began to grow, McCarter applied her PR background and started building her brand. In the beginning, it was a lot of trade, but once she surpassed the 10,000 mark of Instagram followers, it was time to make a profit. 
"So, art was my minor. I took a lot of art history classes where they're literally like, 'Everything is imitation' and I'm like, 'Oh my God, you're right!'" she says, laughing. "And I'm like, did no one else tell other people that? You just have to do it better." 
McCarter isn't shy about sharing that her parents gave her a camera that would serve as a critical piece of equipment in improving her posts.
"Some people's parents can't spend a thousand dollars on a present for them, that is pretty ridiculous. So, I also realize how privileged I am coming into the space."
Equipment in hand, McCarter then embarked on her own research, networking with other cannabis influencers, and started to put a price tag on all that she did. The information she gathered, like multiplying your audience by 10% to determine a price for a single paid post, was used to build out her business. But she deviated from traditional ad agency tactics—when a brand approached her; there was no vagueness as to what they would get and at what cost.  
"Literally it's being really upfront with people and not asking, 'Oh, well, do you have a budget?'" she quips. 
This has led McCarter to work with some major brands, including Calvo glass, High on Love as a consultant, and more recently as an influencer with Weedmaps. She is tenacious and professional, all while sharing the good in cannabis. 
Going Dark
Of course, the opportunities of being an influencer come with some inherent risks: data tracking, privacy, exposure, etc. But McCarter has accepted that those risks are just part of the gig. In 2021, the Instagram platform began to see more cannabis content, thanks to influencers who have a message. 
"I want to spread education and transparency, I feel like people being closed off and afraid [of social media] is going to make it worse." she said in May 2021. Later that year, McCarter experienced the largest threat of all, her account being taken down by the platform. As a brand that uses Instagram to monetize content and build partnerships, to go dark was detrimental. 
"The first takedown happened because my account was hacked into and I was locked out. That was so awful and felt so violating, but luckily a friend of a friend working at Facebook was able to reset the email back to my own," she says, adding the boilerplate to use a different password for everything. 
"The second takedown was actually Instagram taking down my entire profile so no one could find it. That was sad and scary because I didn't know if I could ever get it back," she says. "If I broke their terms, there was nothing I could do because they have to abide by Federal laws." 
Coming to McCarter's aid were some of her fellow influencers who had also experienced a takedown. They advised her to fill out an online appeal form. Facebook did respond, citing the takedown as a mistake. 
"It made me realize I need to start making an email newsletter to build my own network in case Instagram ever decides to take me down again," she says. 
McCarter salvaged her account and was quickly back to creating content and educating others on cannabis and plant medicine; only now she's adding email marketing to her repertoire so she can build her own network. And once again, she only shows signs of growth despite the challenges. 
"There's a saying, 'the more you know, the more you realize you don't know,'" she says. "That's how I feel about cannabis. It's like every little tiny bit of knowledge I learn about, like terpenes or cannabinoids, I'm just like, holy fuck, that must mean there's so much more about this that we don't even grasp or realize."
Guaranteed, McCarter will unearth what we don't know and we'll all be able to see it through her lens.
Photos courtesy of Emily McCarter.