Sha'Carri Richardson, an American sprinter and medal favorite for the Olympics, was informed on June 28 that she had tested positive for marijuana. The U.S. Anti-Doping agency (USADA), the national anti-doping organization in the U.S. for Olympic, Paralympic, Pan American, and Parapan American sport, announced a few days later that Richardson accepted a one-month suspension for the rule violation.
This suspension means the 21-year-old will be barred from competing in the 100-meter dash, her signature event, in the Tokyo Olympics. However, she will be reinstated in time for the Olympic track events and could be named to a relay team.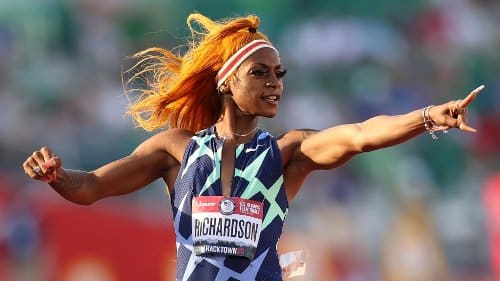 After learning about her positive test, Richardson apologized for her actions.
ADVERTISEMENT

"As much as I'm disappointed, I know that when I step on the track, I represent not only myself, I represent a community that has shown great support, great love. … I apologize for the fact that I didn't know how to control my emotions or deal with my emotions during that time," she said in an interview on TODAY. She also shared that she consumed cannabis to help cope with her mother's death.
Cannabis is considered a banned substance by the World Anti-Doping Agency (WADA). This agency was created by the International Olympic Committee in 1999 to help regulate doping in sports. Marijuana was added to the agency's list of prohibited substances in 2004. In order for a substance to be considered for this list, it must meet two of these three criteria:
The substance enhances or has the potential to enhance an athlete's performance.
The substance could pose a health risk for athletes.
The substance "violates the spirit of sport."
WADA sets the anti-doping rules and policies within sport organizations and governments across the world. So, although USADA was the organization to suspend Richardson, they did so under WADA's international code, according to USADA CEO Travis T. Tygart.
"WADA sets the rules for the world, which all of us — all countries, including the United States — have to follow, whether we like the outcome or not," Tygart told USA TODAY Sports. "And even in sad and tough cases like this one, where we might take a different approach."
Tygart also said the following in a USADA statement:
"The rules are clear, but this is heartbreaking on many levels; hopefully, her acceptance of responsibility and apology will be an important example to us all that we can successfully overcome our regrettable decisions, despite the costly consequences of this one to her."
ADVERTISEMENT

This is not the first time the issue of cannabis use among athletes has been brought up and heavily debated. In 2009, swimmer Michael Phelps was photographed smoking cannabis from a pipe. He lost several sponsorship deals and was suspended from competition for three months, even though he never tested positive for marijuana. NFL player Ricky Williams was suspended several times for violating substance-abuse policies, which ultimately made him come out as an advocate for cannabis. We talked with professional rugby player Anna Symonds a couple years ago about opting for cannabis over alcohol in a world of competitive sports.
"It's an unfair and nonsense rule that has led to this injustice. USADA's and WADA's ban on THC during 'in-competition' windows is based on outdated and totally unscientific political biases, not real medical data," Symonds, who is also an Athlete Ambassador for Athletes for CARE, said in a recent statement from the organization. "If these rules were truly a concern about 'athlete health,' then alcohol (a much more harmful substance) would also be banned in-competition – but it's not. It is heart wrenching to see this electric young star be stripped of this singular opportunity. Cannabis doesn't meet WADA's own criteria for a banned substance, and it simply shouldn't be banned or tested for at all."
Athletes for CARE is a not-for-profit organization that advocates for the removal of stigma and punitive actions against the use of cannabis in sport. The organization announced its unequivocal support for Richardson and is, again, calling on WADA and USADA to remove "antiquated punitive actions" against athletes who use cannabis. They've created a petition to WADA to try to make change. The organization also put out a statment after Richardson's suspension, with several athletes commenting on the issue.
While Richardson's suspension is fully in effect, cannabis advocates are hoping this situation sparks more conversation and change when it comes to the Olympics regulations around marijuana, as we've seen in major sports leagues in the U.S. in recent years.
"… I do think that things need to be looked at again and looked at more comprehensively so that'll at least be one positive outcome of this very, very unfortunate situation," said Dr. Joyner, a physician and researcher at the Mayo Clinic, in an interview with NPR. 
Images by Ryunosuke Kikuno, Creative Commons of Sha'Carri Richardson.