Baby boomers are coming clean with their adult children about cannabis
Seniors and baby boomers whose opinions about cannabis continue to evolve must now learn to have different conversations with their adult children. 
As a baby boomer, I profess to value open and truthful communications. But how we talk about cannabis with our adult children presents one of those challenges where we must reveal ourselves in ways that may contradict what we've taught them. 
I had to "come clean" with my adult son about my new love for the cannabis plant. Even though I knew from my own life experience that Nancy Reagan's "Just Say No" solution was nonsense, I did not know how to parse this conversation sufficiently to offer him guidance. I only wanted him to be safe. 
ADVERTISEMENT

When I look back—I realize my silence toward Reagan's policy was a form of agreement. 
I spoke too much about what society would do to my son if he were caught with cannabis. But I never educated myself or spoke to him about the benefits of cannabis. Rather than talk about my limited cannabis experience, it was easier to say no. After all, I was a functioning member of mainstream society, although a victim of the War on Drugs' propaganda. 
My lie was I did not admit to any drugs that were not prescribed. I've had to come to the truth on this with my adult son. Our conversations still lean toward the medicinal benefits rather than the two of us "seshing" together. But there is no judgment. 
In my friend Sue and Sam Zachary's household, cannabis was consumed in front of their children. They were a military family, often living on bases around the world. Sue said her children knew what happened in their home and it stayed in their home. Furthermore, when, as a teen, one of her children began consuming, she impressed upon them that over-consumption could lead to underachievement. Therefore if they were going to consume, they would have to continue to get things done in life. 
To me they were living proof that cannabis could exist in their everyday lives despite the public stereotypes about cannabis. Today there is complete openness between them and their children although they do not consume together. 
Danielle Simone Brand LeMond, author of the upcoming book, Weed Mom The Canna-Curious Woman's Guide to Healthier Relaxation, Happier Parenting, and Chilling TF Out and parent to a 7 and a 10-year-old offered a different perspective about her current relations with her parents. 
ADVERTISEMENT

"My father introduced me to CBD. He owns a natural foods store and has long known about the benefits of CBD. I knew my dad was open to CBD but less so to THC on the psychoactive side." Her father noticed that people coming into his store were starting to experiment, including himself. "My father suggested we try CBD when it came to both anxiety and sleep." 
Brand LeMond described herself as a late bloomer. It was not until four years ago in her late 30s  that she began writing about cannabis. She also began consuming around that time. Her father was both amused and a little alarmed that the public would learn about her association with cannabis through her writing. He remains reticent today, like many older people, about talking publicly about cannabis. On the other hand, she says her mother, a Canadian citizen, and hippie-adjacent has no issue discussing consumption. 
Both, however, have had to wrap their heads around Brand LeMond's writing and discussing it publicly. 
Some form of cannabis legalization exists and all but three states (Idaho, Kansas and Nebraska), yet for baby boomers, stigmas, stereotypes, and shaming still exists and we recognize these as subtle forms of control. But it doesn't have to be a slippery slope if we recognize and respect our children as adults. 
Respect requires that we accept one person may know more than the other. Even when that is the case, we are to listen to one another. Because in the case of cannabis where every experience is personal, the plant rules. 
Photograph by Anthony Metcalfe via Unsplash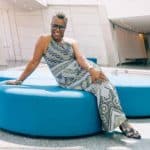 Patricia A. Patton, the CannaBoomer, is making sense of cannabis science as a writer, patient advocate/educator, and market-wellness consultant with a focus on baby boomers and the senior population. She is co-host of the Me & Mary Jane Podcast and publisher of the CannaCurious Newsletter. Find her on Instagram or Twitter.