As various forms of legalization and decriminalization of cannabis continue to occur across the United States, many women and mothers are becoming more curious about the benefits of cannabis in their lives.
"With greater access to cannabis comes a widening gap for education among consumers—especially new consumers and especially women. Sweet Jane magazine was created with the mission to better inform women and mothers who are curious about cannabis—marijuana and hemp—for health, wellness, or relaxation," says Katy Ibsen, Sweet Jane editor and publisher. "If we can make cannabis easy to understand and less intimidating, it moves everyone closer to destigmatizing cannabis."
Education starts with reducing intimidation and creating a platform with easy-to-understand content about what cannabis is and how to use it. "For many women, access to cannabis isn't the barrier to incorporating it into their lives—it's knowing why, when, and how to use it," says Ibsen.
ADVERTISEMENT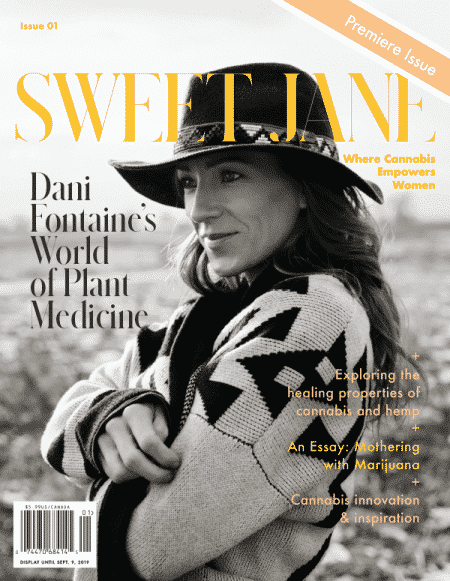 Sweet Jane topics include wellness, how to use cannabis, research, parenting, community, advocacy, profiles of inspiring women, removing stigma, and empowering readers who want to find new means to care for themselves.
"The landscape has changed drastically in just the last two years with the passage of the U.S. Farm Bill, and more states approving medicinal or recreational cannabis use," Ibsen says. "In this changing landscape, Sweet Jane will help women better understand their options."
Growing Market Segment
Women are a rapidly growing segment of cannabis consumers, and their usage is driving new, mainstream trends among retail brands.

In late 2018 Bloomberg stated that, "women have become one of the fastest-growing customer segments—whether it's moms trading in their chardonnay for a vape pen or yoga acolytes seeking out weed-infused pain-relievers."
According to a BDS Analytics' 2018 cannabis trends report, new users skew toward "women between the ages of 25 and 44, and half say they are in the market to explore medical applications. Among edibles consumers, [new users] are more likely than cannabis veterans to seek low-dose products."
Low-dose products in the form of vape pens, topicals, and tinctures and sublingals were reported by Headset to have grown in popularity among women from 2017 to 2018.
Furthermore, growing demand for cannabidiol (CBD) products, following the passage of the U.S. Farm Bill, has created a flood of options for consumers, who can lack critical education on ingredients and consumption, especially in non-regulated states. Sweet Jane provides access to that education for discerning consumers.
New Resource for New Users
Sweet Jane strives to be a leading resource for women and mothers who are new to cannabis and want to educate themselves before trying any form of cannabis.
The premiere edition includes content on: forms of consumption, terpenes, the endocannabinoid system and CBD, effects on breastmilk, cannabis coaches, an essay on mothering with marijuana, and advocacy efforts in criminal justice reform. Issue 01 also includes profiles of five women in the cannabis industry who advocate for health benefits, access, greater education, drug policy reform, and the environment.
ADVERTISEMENT

Sweet Jane Issue 01 goes on sale at Barnes & Noble nationwide, and in Canada, as early as June 11, 2019. Readers can also purchase a copy of Issue 01 at www.sweetjanemag.com.  
###
Sweet Jane is published by Ampersand Publishing, a small, independent publisher based in Colorado and Kansas. Its mission is to empower women through cannabis.
The magazine is advised by an Editorial Board comprised of: Becky Frieze, principal at Treetop Gardens; Shabnam Malek, Brand & Branch LLP, Leah Maurer, TheWeedBlog.com, Shail Paliwal, 3Leaf Edibles; Dr. Michele Ross, Infused Health; and Lisa Snyder, Tokeativity.
www.sweetjanemag.com :: Social @sweetjanemag