"Sanders has given a very holistic approach to marijuana, and that stands out amongst the crowd," NORML's Altieri said. But Altieri said that of all the candidates, Sanders has the longest track record of supporting ending cannabis prohibition and the most cohesive plans for what he would do for the marijuana industry if he was elected. He's also pushed for diversity in the emerging industry. The NORML PAC went as far as to endorse him for re-election in his Senate campaign in Vermont in 2018. 
In his plan on his website, Sanders said he would legalize marijuana in his first 100 days in office by using executive action. He would also vacate and expunge all past marijuana-related convictions and ensure revenue from legal cannabis is reinvested into communities hit hardest by the War on Drugs. He also makes a point on his website to say he will ensure legalized cannabis does not turn into Big Tobacco. He will do this by incentivizing marijuana businesses to structure themselves like nonprofits, making sure cannabis products are not targeted at young people, and more.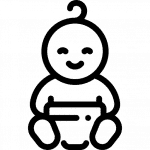 We have a dysfunctional childcare system in this country, which is too expensive for parents, while providers are paid totally inadequate wages. We need to do what other countries around the world do – develop a high quality universal child care program.

— Bernie Sanders (@BernieSanders) January 26, 2019
Sanders wants to enact a universal childcare system as well as a pre-kindergarten program if he becomes president. The plans for exactly how he would do this are not currently available on his website. However, Sanders has advocated for childcare and early education during his time as senator, sponsoring the Foundations for Success Act in 2011 as well as other initiatives.

Sanders' Medicare for All plan would protect women's access to contraception and the availability to have a safe, legal abortion, according to his website. He would also repeal the Hyde Amendment, fully fund Planned Parenthood, and codify Roe v. Wade.  
Sanders received criticism after a CNN climate town hall when he answered a question by saying he was open to discussing population control as a way to deal with climate change. 
"So I think, especially in poor countries around the world where women do not necessarily want to have large numbers of babies, and where they can have the opportunity through birth control to control the number of kids they have, is something I very, very strongly support," Sanders said at the town hall.