Klobuchar had a shift a year ago in her stance on marijuana. In a statement she said, "I support the legalization of marijuana and believe that states should have the right to determine the best approach to marijuana within their borders." 
The Minnesota third-term senator originally opposed the legalization of marijuana when she ran for Hennepin County attorney 20 years ago. At that time, she had a D rating from NORML, which indicated a "hard on drugs" stance. This was upgraded to a B when she was serving in the U.S. Senate. Klobuchar has not sponsored marijuana law reform legislation or any legislation that would reschedule cannabis at the federal level.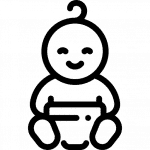 Klobuchar's first 100 days in office plan mentions investing in quality child care. She wants to create a 12-week national paid family leave program for parents to care for a new child and cap spending for childcare at 7% of income for families making 150% of their state's median income. She would do this through a new federal-state partnership, which would also raise wages for caregivers and early childhood teachers. These are just a few of the examples on Klobuchar's plan for child care and family leave. She states she will pay for these plans by increasing the corporate tax rate by 1% and by reversing the "corporate giveaways" in the 2017 Republican tax bill.

The senator co-sponsored the Women's Health Protection Act, which would protect a women's right to have an abortion and repeal state restrictions on access. In her plan for her first 100 days in office, she has vowed to codify Roe v. Wade, ensure funding for Planned Parenthood, end global and domestic gag rules, and "restore" the Title X program so providers like Planned Parenthood can receive federal funding. 
"I think birth control should be accessible. It's part of the Affordable Care Act and we have to make sure that it's accessible and affordable. What you've seen in the last few, last decade or so, especially during President Obama's term, you saw the number of abortions go down and you saw the number of unwanted pregnancies go down. That's a good thing. And what you want to have is abortion available, but you also want to make sure that people have contraception. So that would be a major part of what I would do as well," she said in an interview with Cosmopolitan magazine in December.